The arrival of the Waverley paddle steamer into Portsmouth Harbour was a momentous occasion.  Often hailed as the last seagoing paddle steamer in the world has returned to the water after undergoing extensive restoration work. travel.  Its distinctive red, white, and black livery contrasted beautifully with the backdrop of naval ships and historic landmarks that characterise the famous Portsmouth harbour. Passengers and onlookers marvelled at the vessel's timeless elegance and rhythmic thump of the paddle wheels.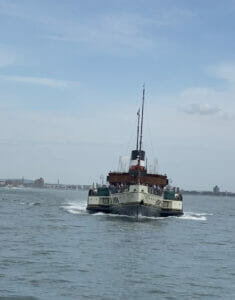 Those lucky enough to travel into Portsmouth Harbour on the Waverley paddle steamer had an unforgettable experience with a cruise past the iconic landmarks such as the Spinnaker tower and the Historic Dockyard.
The return of the Waverley to active service is a testament to the dedication of preservationists and enthusiasts who understand the significance of keeping maritime history alive.