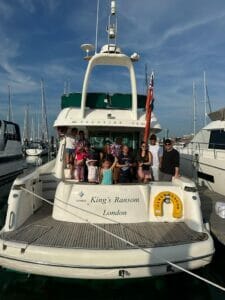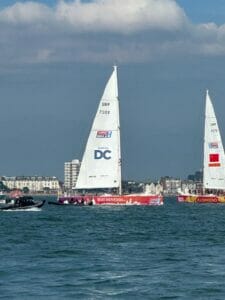 On a very hot sunny September Sunday afternoon, King's Ransom hosted the family and friends of one of the participants of the Clipper Round the World Yacht Race 2023. As the group gathered aboard King's Ransom they were offered refreshments and then with cameras in hand we left Haslar Marina and with the salty sea breeze caressing their faces, the cries of the seagulls above echoed the excitement building within the group.
As the fleet of magnificent yachts came into view cheers erupted from our charter boat as our group waved and cheered and raised a glass at the sight of their adventurous son, brother, friend standing with his newly bonded crew on the deck of the mighty clipper yacht.  They were here to witness the thrilling commencement of the race a once in a lifetime nautical spectacle promising adventure and excitement.
The Clipper yachts departed Portsmouth Harbour heading south past the Spinnaker Tower and Gunwharf Quays Marina and made their way through the sparkling waters of the solent to form the Parade of Sail  which finished at the Boyne Starboard Lateral Mark near the entrance to the main channel into Portsmouth.  Here the eleven identical yachts broke the formation to act independently and prepare for the start of the race.
At 1600 hours the cannon blast start signal was given and the race commenced.
Light south easterlies provided a challenging start for the teams with great skill required to keep the boats moving in such light winds.  After a short course in the Solent the fleet headed east around the Isle of Wight and into the English Channel where stronger south easterly breezes will carry then towards the North West tip of France.
As our charter boat returned to Portsmouth Harbour the memory of that exhilarating moment will linger in their hearts knowing that each vessel carried not only a crew but a dream of adventure conquering a vast unpredictable ocean and completing a remarkable journey around the world.