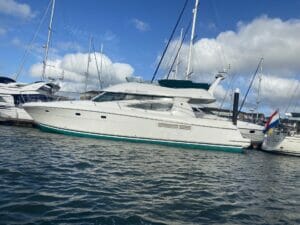 .
One of the hottest weekends of year so far we took a small group of enthusiastic diners on an exclusive charter trip to the charming coastal town of Cowes.  As the sun shone brightly we approached the Isle of Wight and the group were treated to the breathtaking views of the coastline.
A lunch reservation at Smoking Lobster had been arranged in advance for the group by Prestige Yacht Charter and  a mooring at Yacht Haven Marina meant the group only had a short stroll to lunch.
After a delightful meal of local produce, fresh lobster and seafood presented with a pan-asian twist the group explored the quaint historic streets of Cowes brimming with boutiques and restaurants.
Once back on board King's Ransom the group were treated to refreshments and a scenic trip along the Solent taking in local beauty spots.  There was time for short stop at Osborne Bay for a cooling dip.
After taking some time to enjoy the tranquil waters of the bay the group experienced the exhilarating speed of Kings' Ransom as it surged through the water with the wind in their hair and a splashing of sea spray the group were soon approaching Portsmouth Harbour with the familiar spinnaker tower rising gracefully from the shores of the harbour.